While in the "Plans" tab and click on the employee's tab to view your list of employees.
Each employee listed will have a checkmark next to their name if they are currently participating in the plan.
Status: This column will show all possible employee statuses.
Balance Column: This will show an employee's balance if any.
Investments Column: This will show the employee's current investment selection.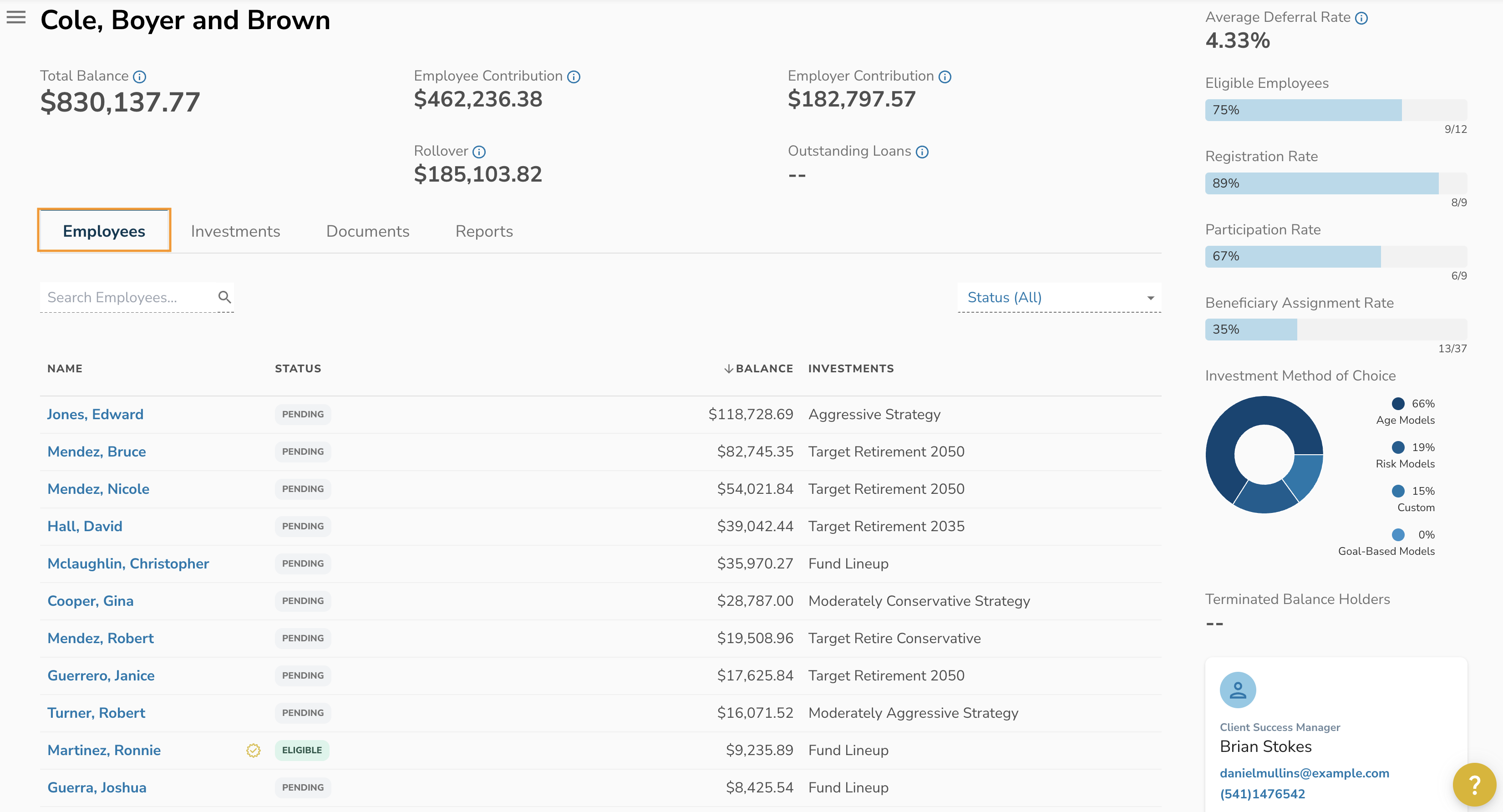 Filter Through Employees
Use the drop-down menu to filter through the employee's statuses:
Eligible
Pending
Awaiting Entry Date
Ineligible
Terminated
Terminated With Balance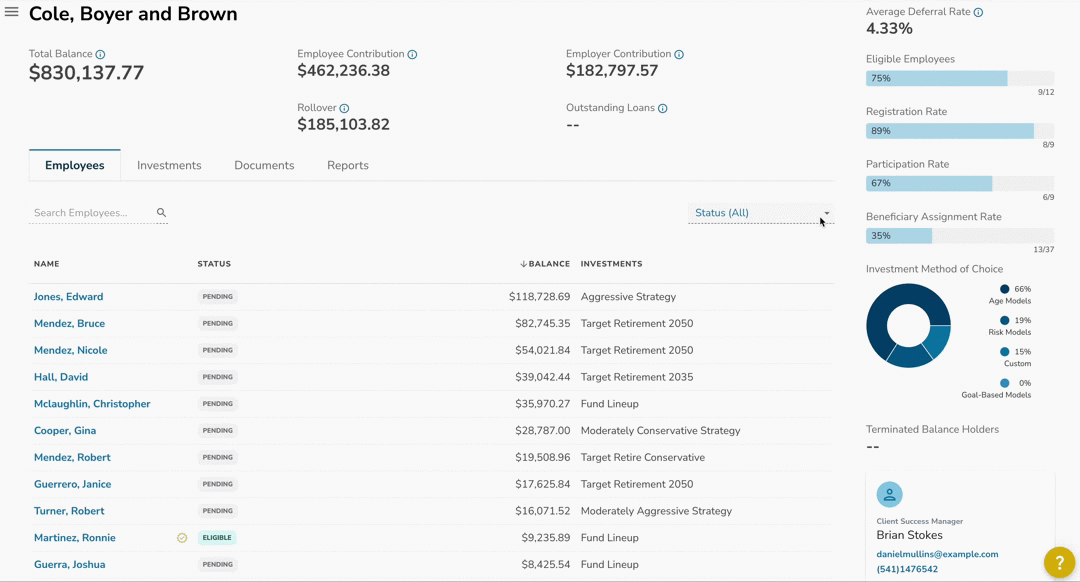 You may also search for employees by name using the search field.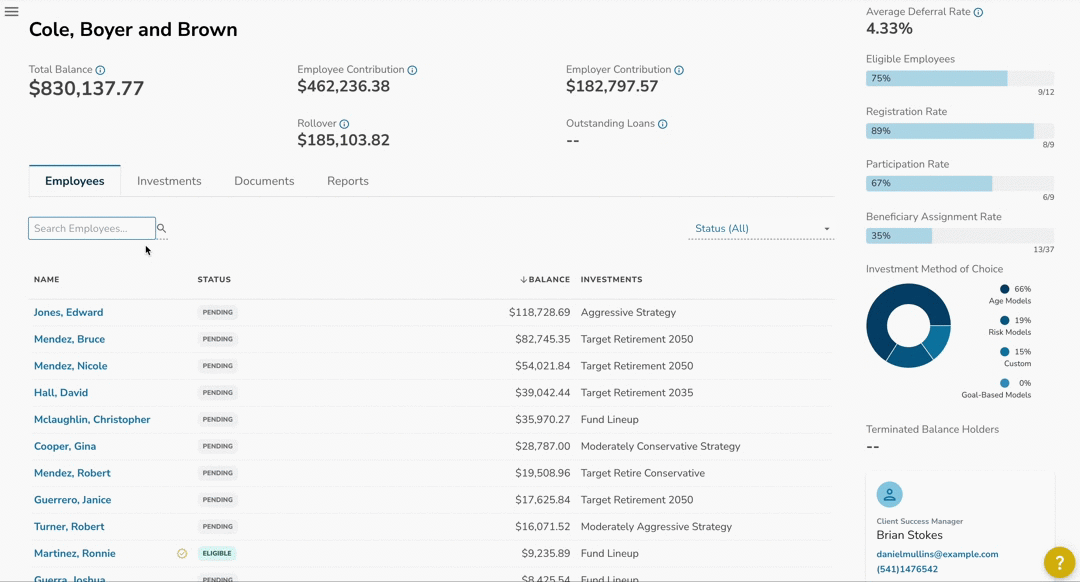 Clicking on an employee's name will bring you to a separate page where you can find the following tabs:
Balance

Transactions

Holdings

Performance

Statements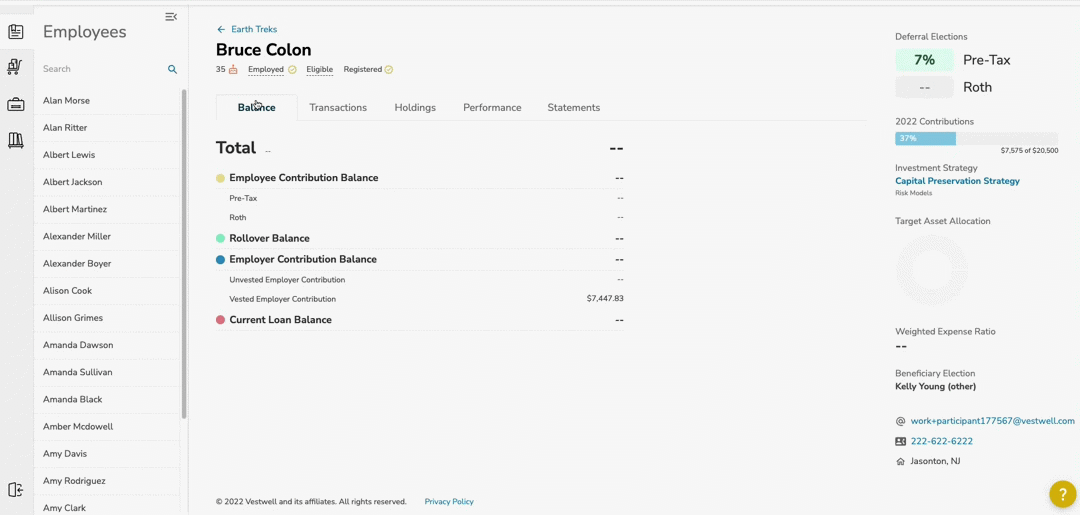 Balance Tab
You will be able to see the employee's Age, Eligibility, and Registration status.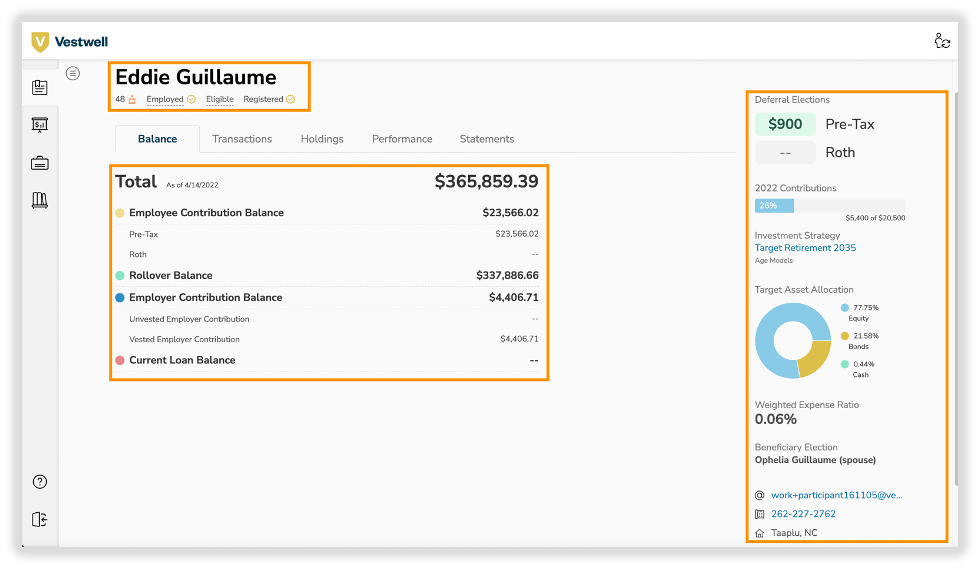 You will also be able to view the employee's balance which is :
Employee Contribution Balance total: Pre-tax or Roth

Rollover Balance

Employer Contribution Balance total: Unvested and Vested

Current Loan Balances - if any
To the right of your screen, you will see additional information, such as:
Deferral Election amounts

Total contributions for the year

Their selected investment information

If they have selected a beneficiary

Email and contact information
Transactions Tab
The transactions tab will show the employee's Pending and Completed transactions. This view can be set to reflect 30 days, 90 days, and Year to Date transactions. The view can also be filtered by:
Adjustments
Contributions
Dividends
Fees
Loans
Other
Transfers
Withdrawals
All Transactions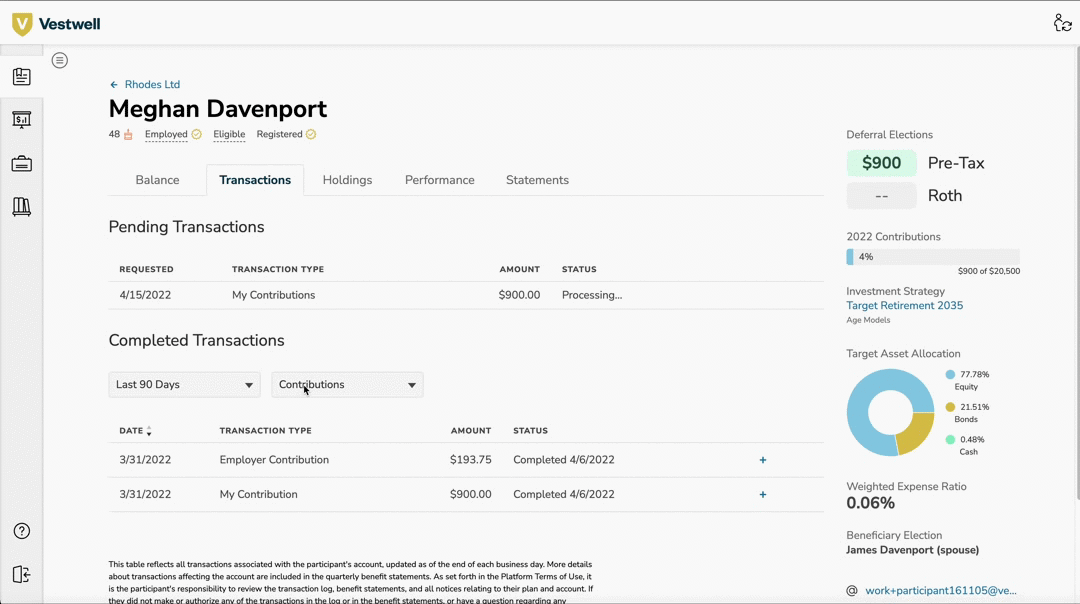 Holdings Tab
View the employee's current positions, which will show:
Funds

Portion

Position

Asset Class

Expense Ratio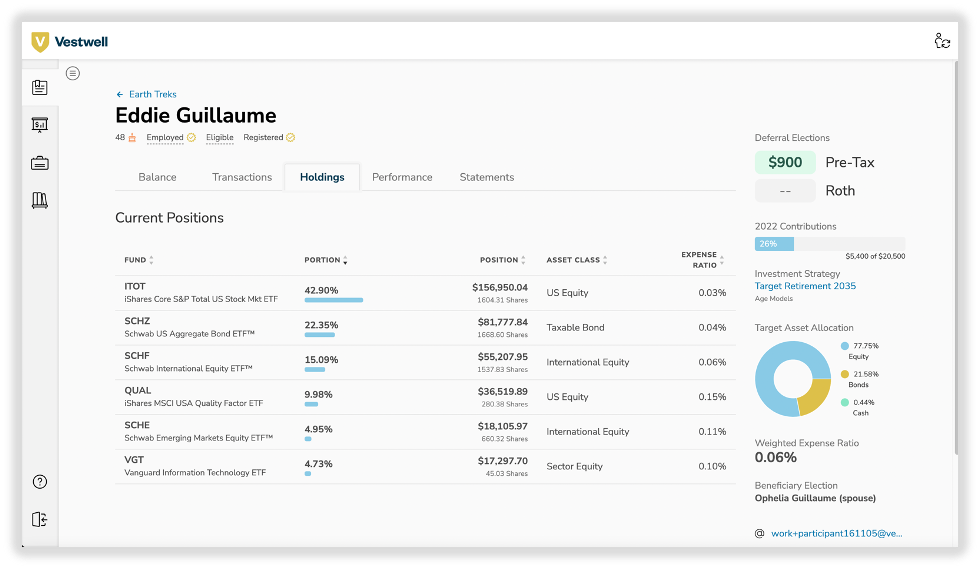 Performance Tab
View the account performance showcased by a structured timeline.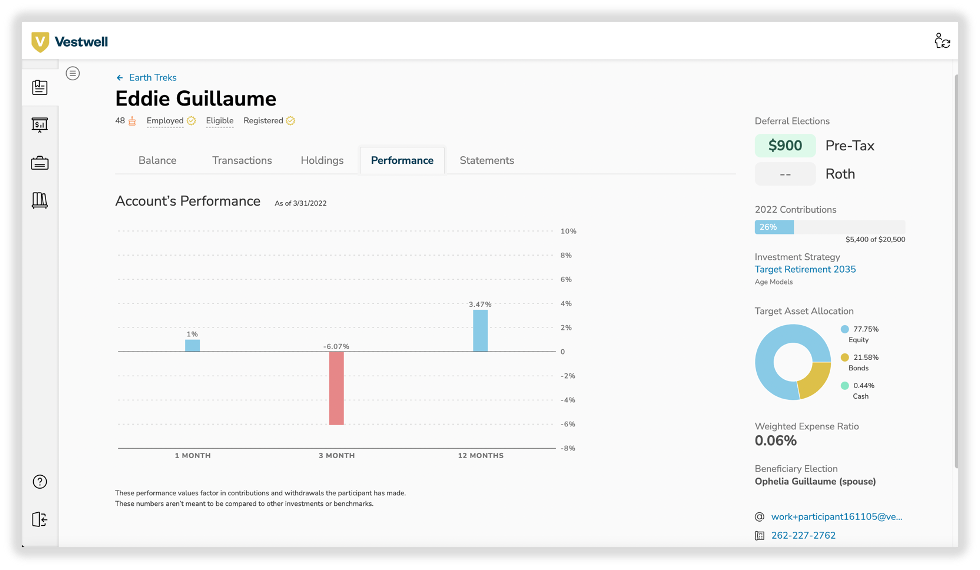 Statements Tab
View and download the individual's available statements, these will be listed by Quarter.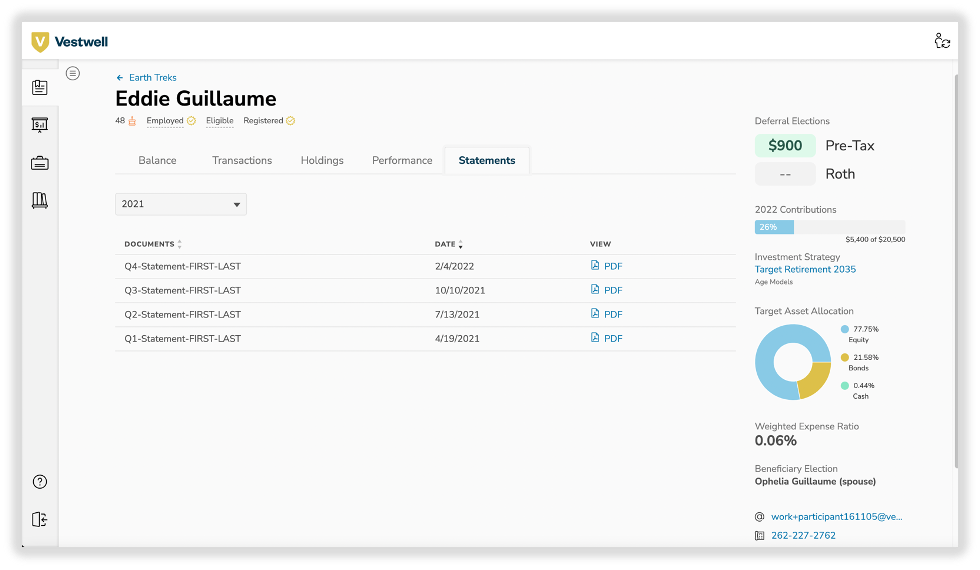 We hope you found this article to be helpful. If you need additional assistance, please contact us a clientsuccess@vestwell.com