As a participant in your employer's retirement plan, you are always in control of and responsible for making your investment decisions. Understanding and monitoring your investment elections are an essential part of participating in your retirement plan and evaluating your progress towards achieving your retirement savings goals. Your risk tolerance and financial needs are bound to change throughout your career, so it's a good idea to periodically review your investment elections to make sure they align with your needs.
Depending on your retirement plan's investment options, some investment options and strategies below may or may not be available to you. Vestwell does not provide any legal, financial, or investment advice to plan participants, but we offer information for general education purposes that you may wish to consider when making your investment selections. More information and important information about your investment options can be found here: Understanding Investment Options.
If you have questions about the investment election process or any topics covered below, please reach out to help@vestwell.com.
First, some important things to know:
At all times, you control and are solely responsible for making and monitoring your investment selections. Vestwell is not a financial, tax, or investment advisor to any individuals and we urge you to carefully review all of the information about the investment options available to you. After enrolling in the plan, you can select your investments using various methods to accommodate your desired goals and risk tolerance. Your plan offers investments that you can select using various methods:
Age-Based strategies are generally intended for participants who prefer to select their investments based on their time horizon before retirement. Target Date Funds generally provide a combination of capital appreciation and preservation of capital that becomes more conservative as you reach your intended retirement age. You may enter your desired retirement age, and a target date fund will be suggested. You may choose to customize your Target Date Fund selection to select a more or less aggressive strategy, which may be an important consideration, especially if you believe you will stop working full-time before or after you reach age 65. You may also consider a Target Date Fund based on when you plan to start taking distributions from your retirement plan. For example, your Target Date Fund selection may be different if you plan to retire early, at say age 62, and do not intend to withdraw the funds until age 72. You may change your selection at any time.
Risk-Based strategies let you select investments based on the proportion of equities and fixed-income investments in the portfolio. Aggressive strategies generally have a higher allocation of stocks and other equities as compared to fixed income and similar investments. More conservative strategies have a higher weighting of fixed-income assets (such as bonds). Unlike Target Date Funds, the asset allocation within these portfolios does not automatically adjust as you age or near retirement.
Goal-Based
Some plans offer this investment option to participants if it has been selected by your plan's investment fiduciary. Based on the information that you or your employer provide to Vestwell, the Managed Accounts Feature displays a customized investment allocation. You can accept these suggestions or input additional information into your account profile, such as your desired retirement age or risk tolerance. The feature will recalibrate and suggest a different allocation based on the additional information you provide to Vestwell.
The account aggregation feature allows participants to include accounts, other than their employer's retirement plan, that they have earmarked for retirement ("Outside Accounts"). You can link up to five outside accounts via our integration with Plaid and add five other account balances manually. Adding Outside Accounts to the feature will enable the tool to provide a more comprehensive view of your retirement income estimate.
Learn how to add outside accounts here.
Where can I see my current investment selection?
You can review more information about your existing investment allocations at any time by clicking on the "Manage Investments" button on your Retirement Summary page. You will be taken to a page that displays your current portfolio with links to educational materials about those investments and other available options for your plan.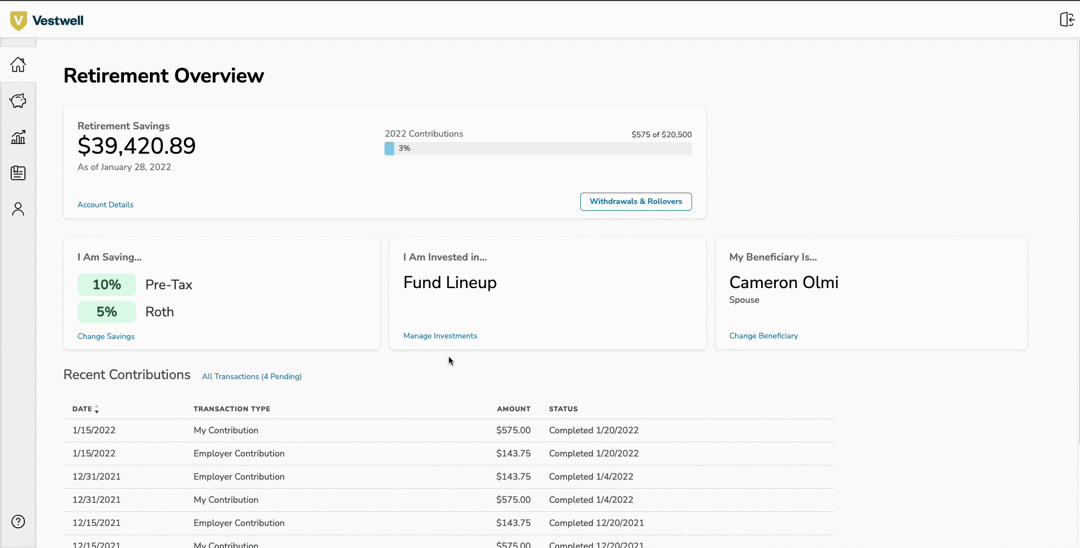 Under the 'Customer Allocation' window you will be able to run through the following options:
Adjust Allocation:

You can choose from a line-up of investment options selected by the plan's investment manager.

Rebalance Settings:

You can turn on auto-rebalancing in order to balance your investments based on market fluctuations. You can also select One-Time Rebalance.

Disclaimer:

Review some important considerations under the disclaimer section.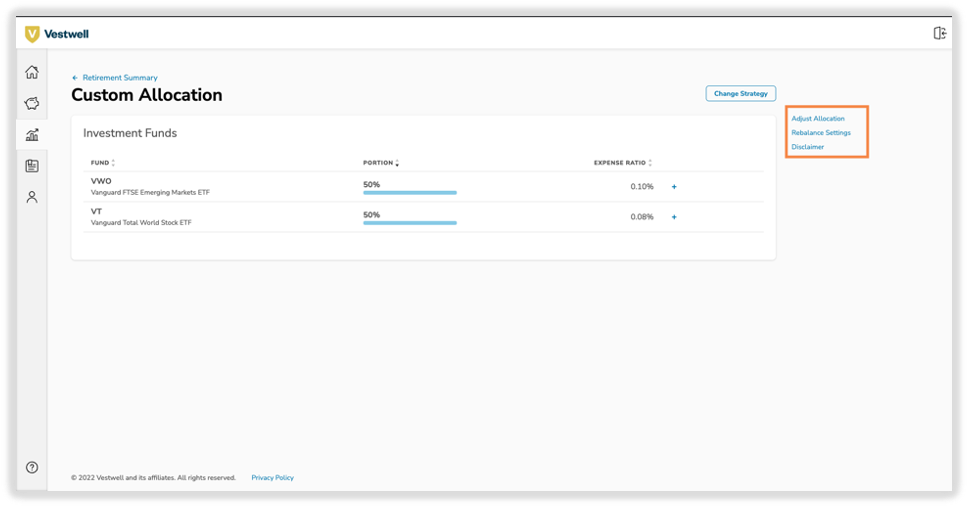 What does the target asset allocation of my portfolio mean?
Asset allocation is the mix of stocks, bonds, and other investments that comprise your portfolio. Each portfolio has a targeted mix that will drift over time as equities tend to appreciate faster than fixed fee investments. Portfolios are typically rebalanced at the beginning of each quarter to restore the target allocation. To view the actual value of your holdings at any time, click on the Investments tab.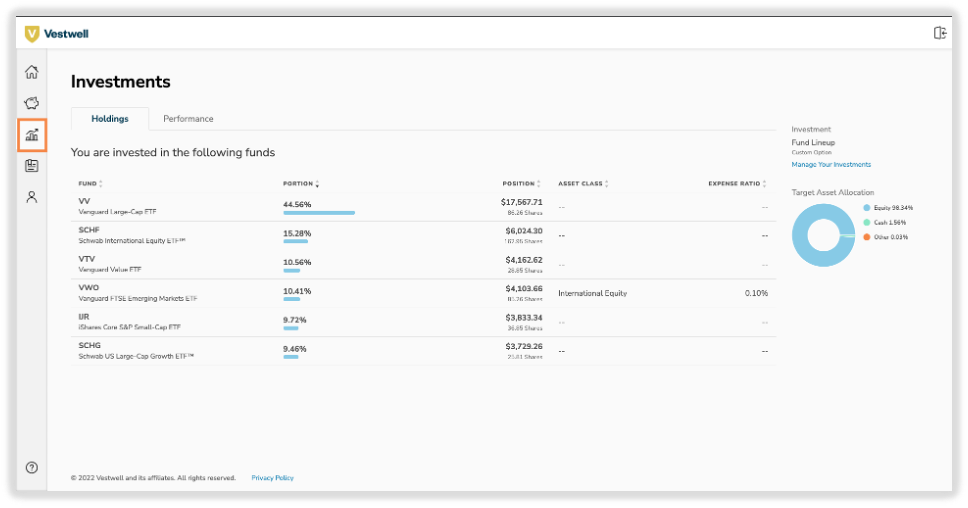 How do I see all of the investment options available in my plan?
Please click on the 'Investments' tab you can then navigate through your 'Holdings', and 'Performance'.
On the upper right-hand side of your screen select 'Manage Your Investment' you will see:
Age-Based

Risk-Based

Custom Allocations
You can also select 'All Investment Options' where it will display all the options above.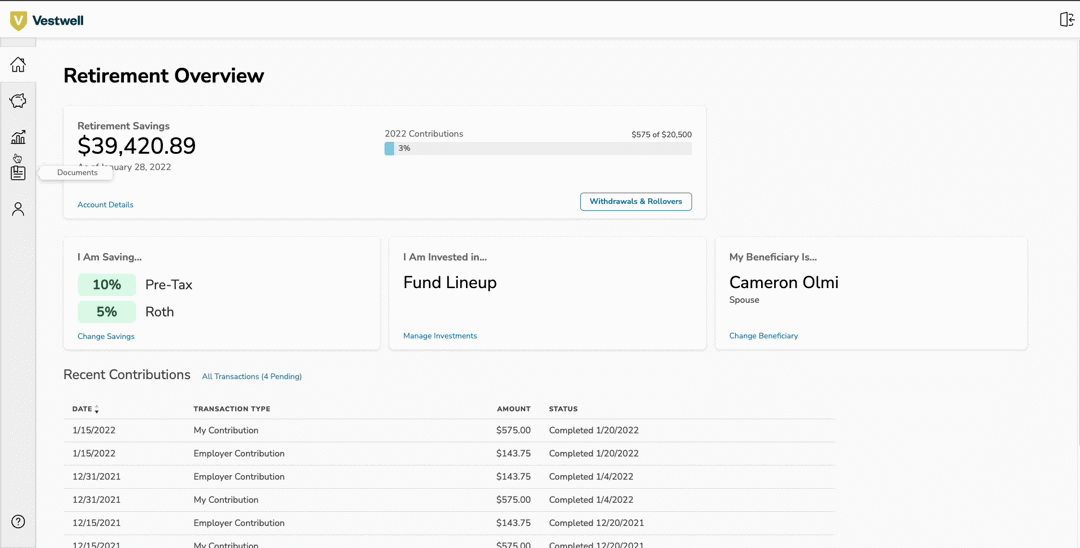 Another shortcut you can take to get to your 'Investment Options' is going to the Home screen, selecting 'Manage Investments', and selecting 'Change Strategy'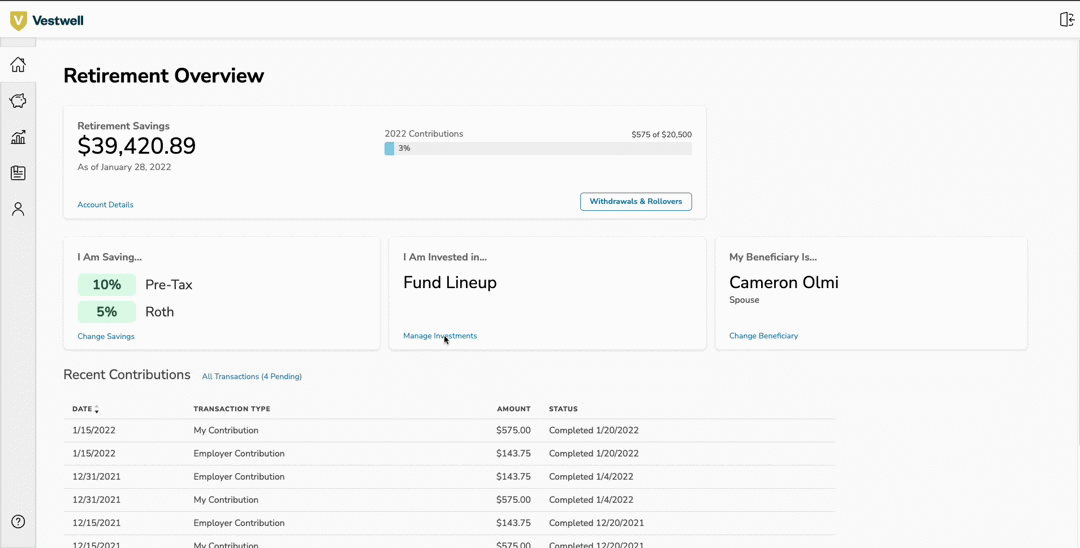 Why don't the allocations in my holdings match the target allocations on the manage investments page?
Market fluctuations may cause some of your investments to appreciate or depreciate, which could make your portfolio shift away from your target allocation. You can perform a one-time rebalance to bring your portfolio back in line with your target asset allocation. Or, if you have automatic rebalancing turned on, your portfolio will be automatically rebalanced quarterly.
How do I change my investments or rebalance my portfolio?
Please see our article on How to Change Your Investment Elections.
View our Trading Policies and Procedures, or go to the Plan Documents section of your portal.
We hope this article was helpful; if you need further assistance please contact us at help@vestwell.com
Important Information, Risks, and Limitations Regarding Use of Our Website and Tools
All data shown on our websites and by using our tools are estimates only, they are provided for your general education purposes, and should not be used or relied upon for any other purpose or by any other individual or organization. Any estimates provided are one of many potential outcomes and any future investment returns provided on our sites or by using our tools are solely hypothetical in nature and they depend on numerous conditions, assumptions, probabilities, and dependencies, which may change and which may or may not reflect current, actual, or future plan expenses or investment performance. The actual future value of your account or future investment performance may be materially different from this estimate. Our tools may be underestimating extreme negative scenarios unobserved in the historical period on which the estimate is based. None of the information provided on our sites or through the use of our tools is intended as a guarantee or probability of attaining any investment goal. Any retirement income estimate is based on a single snapshot of your retirement savings at the time you use the tool. You may see different results each time you use the tool because of changes to your investment mix, revisions to the allocations or investments in any investment option available to your plan, and other factors.
All content provided on our websites or by using our tools is provided for general information purposes and is not to be construed as a solicitation, recommendation, or any type of investment advice. All investments involve risk and past performance is not a guarantee or indicator of future results. Investments in securities are subject to many risks, including possible loss of principal, market fluctuations, liquidity and interest rate risks, domestic and international risks, and inflation-related risks among many others. Without any limitation and for example, only, bond funds are subject to the risk that an issuer will fail to make payments on time, and that bond prices will decline because of rising interest rates or negative perceptions of an issuer's ability to make payments and investments in stocks or bonds issued by non-U.S. companies are subject to risks including country/regional risk and currency risk.
Consider the investment objectives, risks, charges, and expenses of all investment options carefully before investing. This website and any content in tools provided on our sites do not constitute an offer to sell, a solicitation of an offer to buy, or a recommendation of any security or any other investment product or service by Vestwell Holdings, Inc. or any of its subsidiaries, affiliates, or other third parties. Neither Vestwell nor any of its subsidiaries or affiliates make any representations regarding the appropriateness or suitability of any securities, products, or services and we do not provide legal, tax, financial, or investment advice to any individual. Any links from our websites to a third-party website are not an endorsement or recommendation of any investment nor is it a statement or opinion as to the accuracy or completeness of any information provided on such a third-party website. Individuals should consult their business or financial advisor, attorney, or tax and accounting advisor regarding their specific business, legal, or tax situation, and should review the offering document or other disclosure provided by any applicable investment or security before deciding whether to make an investment.
Important Assumptions That May Significantly Affect the Information Provided through the Use of Our Tools
The tool is based on many assumptions, including but not limited to assumptions that you will be fully vested in your retirement plan balance, that you can access any other benefits or balances you enter without restriction, and that you will continue to work at your current employer until your retirement age. You or your employer may change or stop contributing to your current retirement plan at any time. Any retirement benefits to which you are entitled under the terms of any of your employer plans will also depend on the official plan documents (as interpreted by the Plan administrator in its sole discretion) and laws that govern each plan will be followed in determining your rights and benefits under each plan. Your employer reserves the right to amend, modify, suspend, or terminate the plans, in whole or in part, at any time without prior notice, to the extent allowed by law. This means your employer has the right to change plan terms (including eligibility for benefits) or to discontinue any part or all of the benefits described herein at any time. Any withdrawals from your retirement savings exceeding your retirement income estimate will significantly impact the estimate's accuracy. This tool does not consider any taxes you may owe on withdrawals from your retirement savings or required minimum distributions from your retirement savings mandated by the IRS. Withdrawals taken from tax-advantaged accounts prior to age 59½ are generally subject to a 10% federal tax penalty. Any benefits you enter are assumed to be the amounts payable at retirement and will not be adjusted for inflation by the tool. The tool does not consider any loans from your retirement plan. A loan balance could reduce your savings if you leave the plan.
Vestwell Advisors LLC is a subsidiary of Vestwell Holdings, Inc. Vestwell Advisors LLC is an investment advisor registered with the Securities and Exchange Commission. Neither Vestwell Advisors nor any of its parents, affiliates, or subsidiaries provides investment, tax, financial or legal advice. Prospectuses and other educational materials are available by contacting Vestwell Advisors at help@vestwell.com. Vestwell Holdings, Inc. and its subsidiaries and affiliates EXPRESSLY DISCLAIM ANY AND ALL WARRANTIES, EXPRESS OR IMPLIED, REGARDING ITS WEBSITES AND ALL MATERIALS, INCLUDING WITHOUT LIMITATION ANY IMPLIED WARRANTIES OF MERCHANTABILITY, TITLE, NONINFRINGEMENT OR FITNESS FOR A PARTICULAR PURPOSE, EVEN IF VESTWELL HAS BEEN INFORMED OF SUCH PURPOSE. USE OF ITS WEBSITES AND SUCH INFORMATION IS AT YOUR SOLE RISK. IN NO EVENT SHALL VEST WELL OR ANY OF ITS SUBSIDIARIES OR AFFILIATES, OR ANY OF THEIR RESPECTIVE OFFICERS, DIRECTORS, EMPLOYEES, SHAREHOLDERS, MEMBERS, AGENTS, REPRESENTATIVES, SERVICE PROVIDERS, OR SUPPLIERS, BE LIABLE TO YOU OR ANYONE ELSE FOR ANY CONSEQUENTIAL, INCIDENTAL, PUNITIVE, SPECIAL, DIRECT OR INDIRECT DAMAGES (INCLUDING WITHOUT LIMITATION LOST PROFITS) THAT RESULT FROM THE USE OF ITS WEBSITES, TOOLS, OR ANY OF SUCH INFORMATION.