Steps on how to retrieve the contributions report from the Chick-fil-A payroll system
What is the purpose of this report?
In order to process your contributions into your retirement plan, we need two things from your records:
The amount being withheld from each employee's pay, the amount contributed by the employer, the amount of all loan repayments, and the total amount of each employee's gross pay. We use this information to know how much to transfer from your bank account into the retirement plan.
An up-to-date employee roster to ensure our records have the most updated information about each employee. This helps us identify who is eligible to contribute to the plan and where to send any required notices/communications.
How to retrieve this report?
From the Chick-fil-A franchisee portal, go to Reports & Tools:

Select Data Feeds: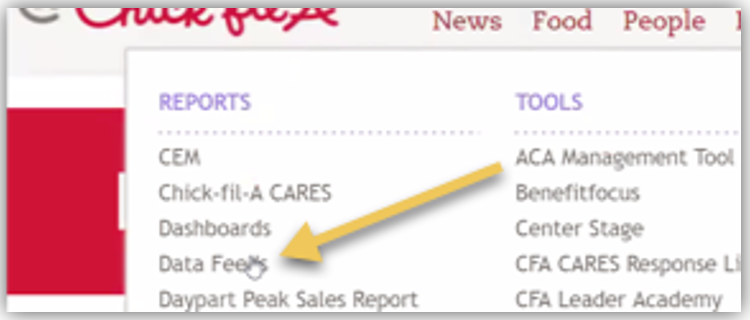 Within Data Feeds, find the People section. From there, run the Team Member 401(k)Census Report for the applicable period – export as a .CSV file. If you are running this for a regular pay cycle, the date range should be Sunday – Saturday of the week for the applicable paycheck dates.

Go back to the Contributions tool, click the Upload button, and find and select the Team Member 401k Census Report you just downloaded.