Rollovers are a two-step process for each account you are transferring into your Vestwell account
Submit Your Rollover Request: Provide details about the funds you want to roll over into your account.
Contact your Prior Provider: Let your prior provider know to send your funds to us.
To get started login to your Vestwell participant portal and select 'Rollover Into Account' from the 'Withdrawal's and Rollovers' drop down and select 'Start Rollover Request'.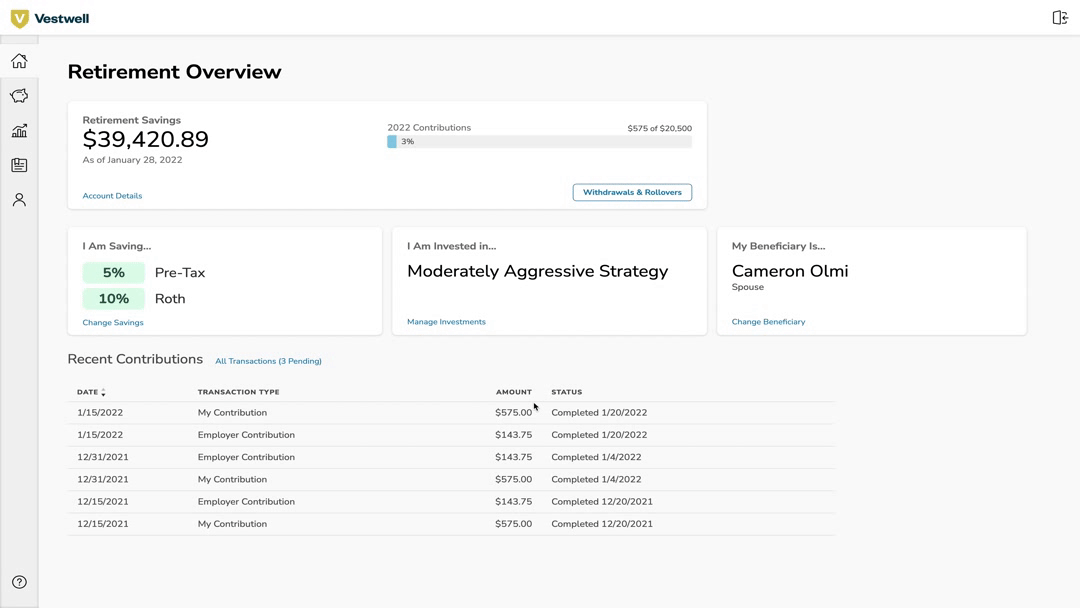 Selecting the 'Rollover Into Account' option.
You will need to complete an online request per account per providing company. If you have assets at multiple companies, you will need to complete a request for each company. If you have both Pre-tax and Roth assets from the same provider, you will also need to complete a separate submission for each.
Completing your Rollover Request
Once you have selected 'Start Rollover Request', select the account type, retirement provider, and type of funds your account contains.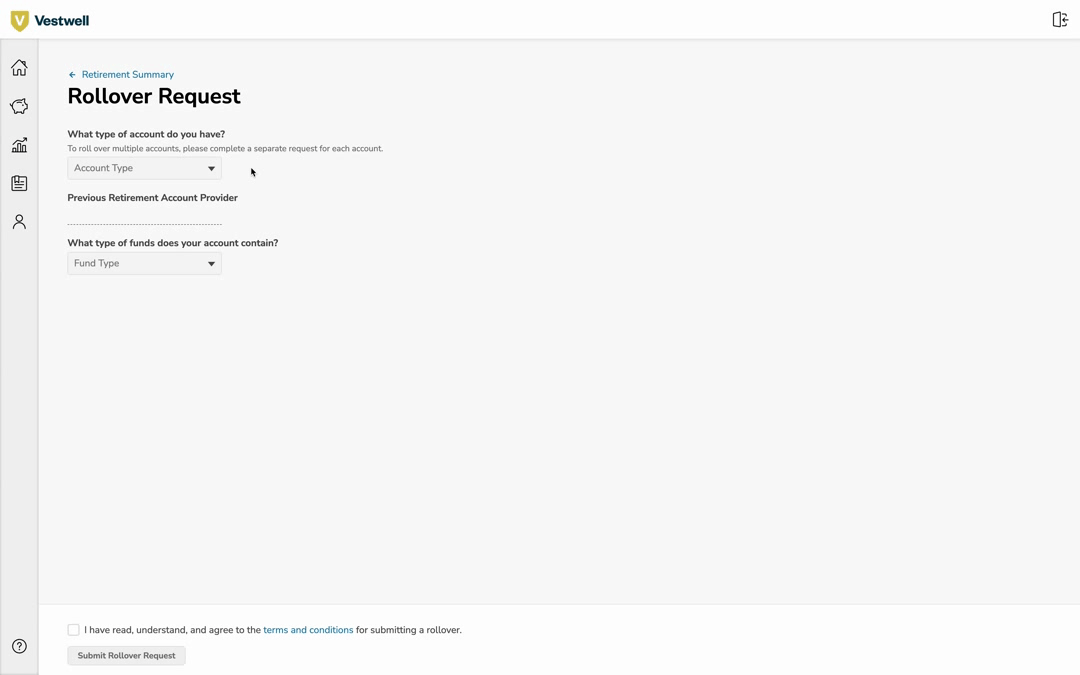 Account type: 401K, IRA, 403(b), 457(b)
Previous retirement account provider: The name of your financial institution holding your funds refers to the company your pre-tax or Roth funds (the assets you wish to transfer into your Vestwell account)
Type of funds your account contains: Pretax and Roth

Note: if you have a Roth account you will need to indicate when you started contributing to the Roth, and their cost-basis
Cost-basis is the actual month that you contributed to the Roth (not including the gains or losses). The trustee company that currently holds your account should have this information

Amount you are going to be rolling over: Your current balance is generally a good estimate
Acknowledge the terms and conditions of the request and hit 'Submit Rollover Request' and this takes care of your submission.
Note: Your request will only be valid for 90 days. If we do not receive your rollover funds within that time, the request will be closed and you will need to submit a whole new request.
Now reach out to your previous provider
Let your previous provider know how and when they can send funds to us. We accept funds via Check, ACH or Wire. Navigate through the different tabs to find detailed instructions depending on the delivery method selected.
Click 'Ok' once you have the information needed to go to your account details page and see your requests under the pending transactions.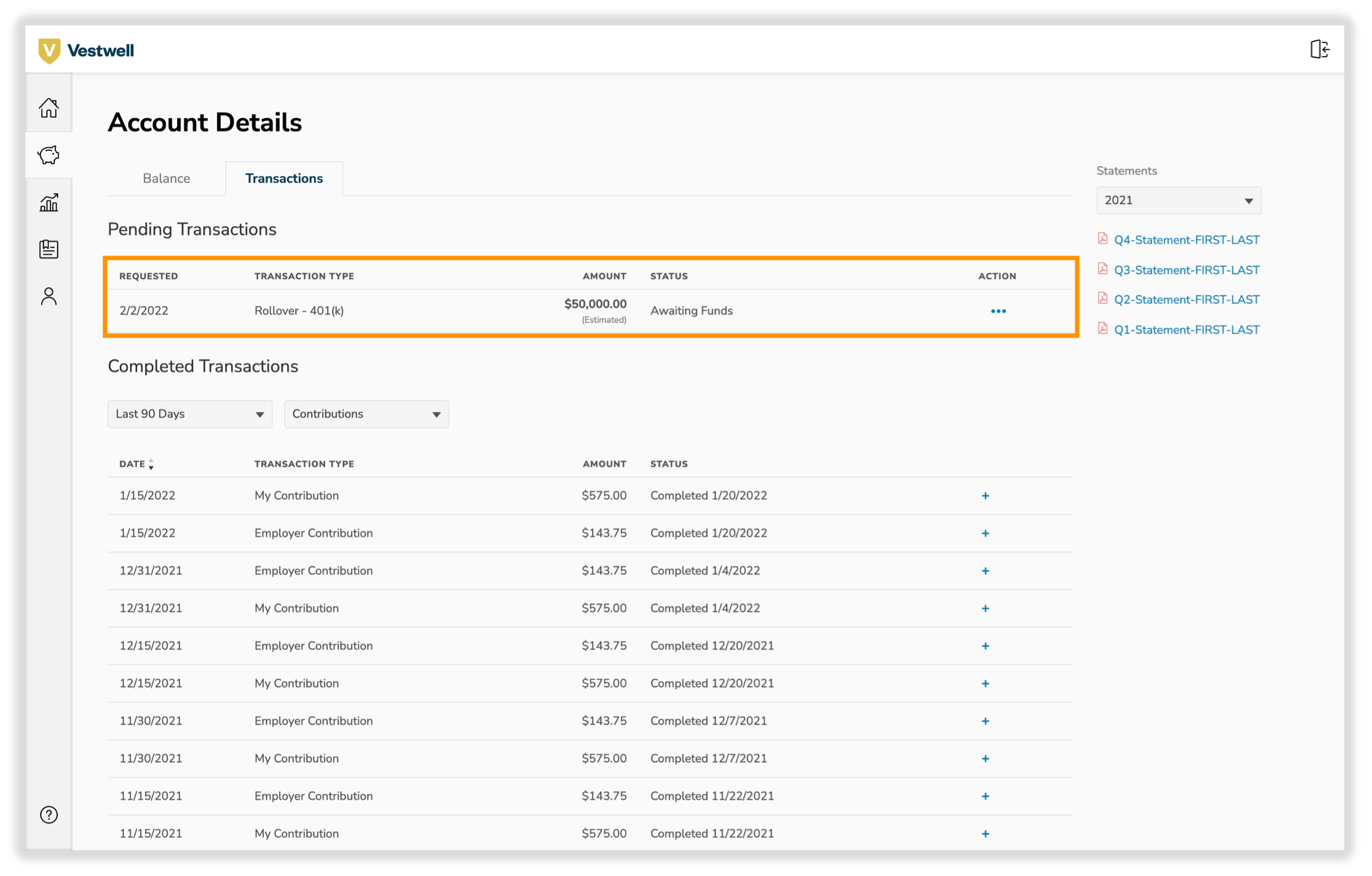 What to do if you have already received a check
If you have already received a check from the account provider, please complete the steps above, and we will let you know where to send the check. It is important to note; checks typically need to be received by us within 60 days of issue from your previous provider to avoid early withdrawal penalty taxes. You may want to consult with a tax professional with any questions or concerns that you may have.
Initiating a Rollover Request with the provider of the account you wish to transfer to Vestwell
Unfortunately, most providers have their own instructions, so we cannot provide these for you directly. However, to find these, search your provider's FAQs for terms such as "distribution" or "roll out funds." Alternatively, all providers should have a helpline or email you can contact for additional information.
Please be sure that the request to the provider for the account you wish to transfer to Vestwell includes the specifications that indicate how and where to send the assets (outlined on the Vestwell online form and in the email confirmation that you will receive from us). While wire/ACH is the fastest method, it is not always supported. If asked, please indicate that your transfer will be a Direct Rollover.
We are Here to Help
We are here to make this process as seamless as possible in the hopes that having a consolidated account will help you manage your retirement savings more effectively. Should you need us at any time, please reach out to help@vestwell.com, and we will be in touch as soon as possible. You can also visit our video tutorial 'How to Series - How to Initiate a Rollover Into Your Vestwell Account'.