Adding a Pay Group
To add a pay group login to your Vestwell employer portal click on the 'Contributions' tab.
From the 'Contributions' main page click on the tools icon

. This will bring you to the 'Payroll Setup page.
From here:
Click on 'Add Another Pay Group'.
Add a Pay Group Name.
Select the corresponding Pay Schedule you wish to use.
From here you will locate the 'Available Bank Account' section and you can choose to select another bank account from the options listed or you can add a new account by selecting 'Add Account'.


If you choose to 'Add Account' select how you want to link your bank account; this can be done via 'Direct Bank Connection' or by 'Entering Bank Information' manually.

Once the prompts are completed for the desired 'Add Account' method, click 'Save Pay Schedule' to complete.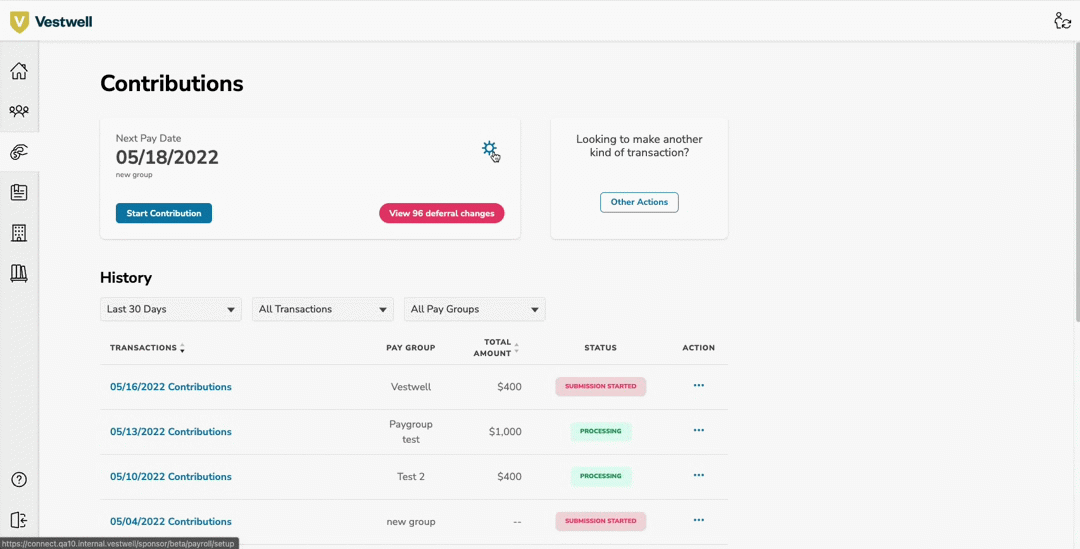 Edit a Pay Group
From your Payroll Setup page locate the pay group you would like to modify and click 'Edit'.
From here:
You can update your pay group name y clicking in the Pay Group Name field and typing in the new name.
You can update your pay schedule by clicking on the dropdown and selecting the corresponding pay frequency.
You can also update the bank account where your contributions are drawn from.
After you have consolidated your data select 'Save Pay Schedule' to complete.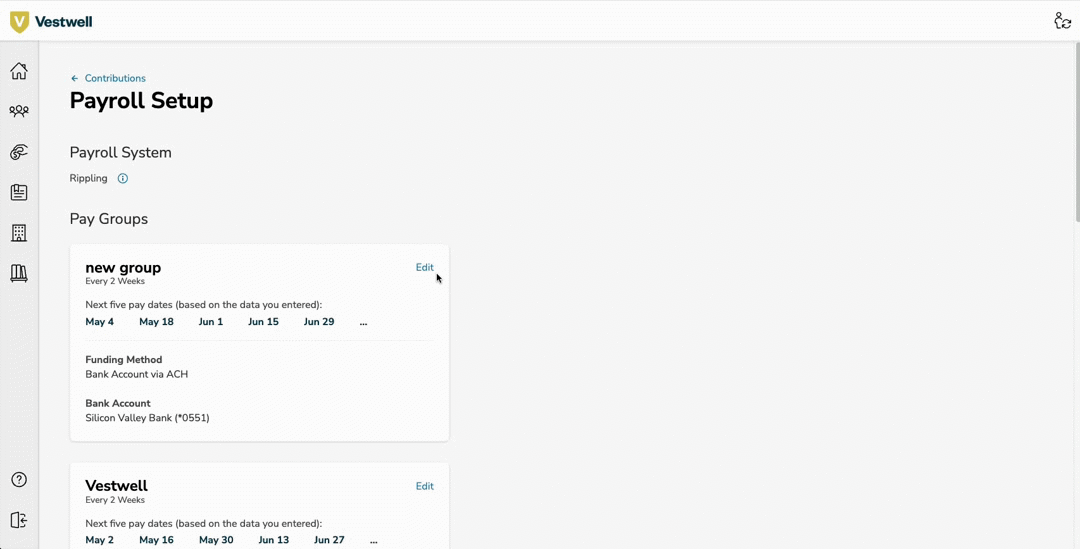 We hope that you found this article to be helpful.
What If My Integration is Enabled?
If your pay group has an enabled integration, you will not be able to edit the pay group name or add a new pay group. Visit our help article How Do I Change My Pay Group With An Enabled Integration?
If you need additional assistance, please contact us at clientsuccess@vestwell.com