To request a rollover into your Vestwell account, log in to your Vestwell portal. Then, on your Retirement Summary page, click "Withdrawals & Rollover" and select "Rollover into Account."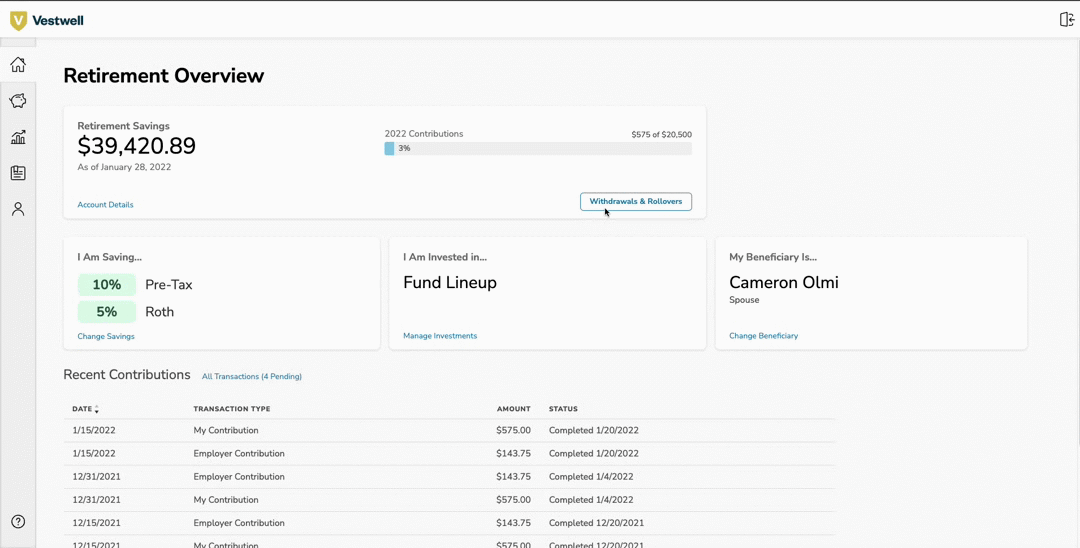 Completing Your Rollover Form
To roll over assets from your SIMPLE IRA account, start by filling out our on-portal rollover form.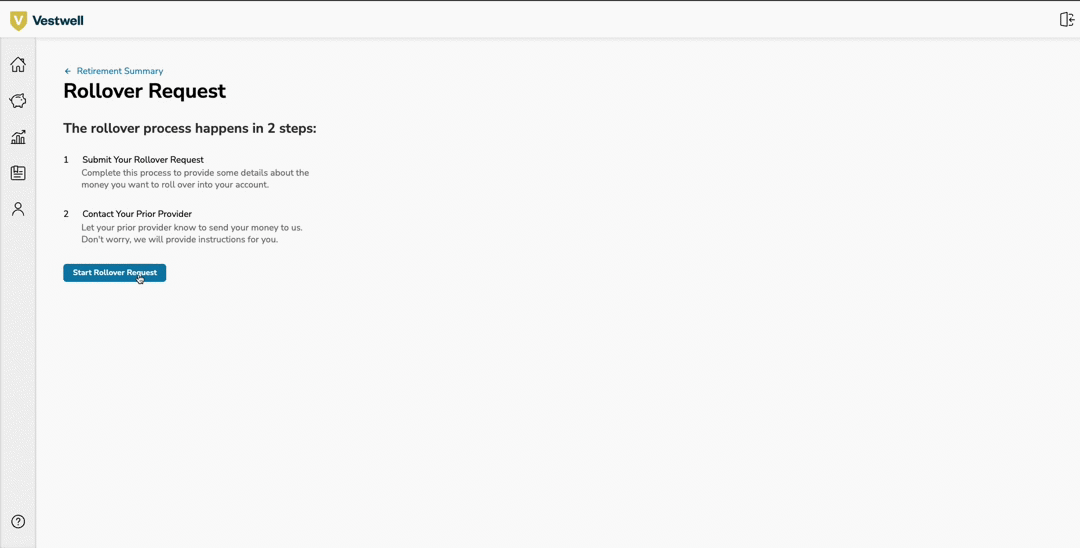 Some tips:
Current Account Holder refers to the company that currently holds your SIMPLE IRA.

You will need the current account number of your SIMPLE IRA. If you do not have this number, please reach out to them directly.

If you do not have a contact person where your assets currently lie, please leave this section blank.
Once all the details have been filled out, you will need to contact your previous provider to initiate your rollover. Details your provider will need in order send your funds via Check, ACH or Wire.
Letter of Acceptance
Your current provider of your SIMPLE IRA may need a Letter of Acceptance (LOA) from Vestwell. If this is the case, please mark "Yes" on the rollover form for the question "Do you require a letter of acceptance to request the money transfer from your prior account?"
Our team will send you the LOA, and you will need to send it to your current SIMPLE IRA provider. If you have already submitted your rollover request form and need an LOA, please email help@vestwell.com to request a Letter of Acceptance.
Initiating a Rollover Request with Your Current Provider
Unfortunately, most providers have their own instructions, so we are not able to provide these for you directly. However, to find these, search your provider's FAQs for terms such as "distribution" or "roll out funds." Alternatively, all providers should have a helpline or email you can contact for additional information.
Please be sure that the request to your current provider includes specifications on how and where to send the assets (outlined in the email confirmation you will receive). While wire/ACH is the fastest method, it is not always supported. If asked, your request will be a Direct Rollover, and all assets will be sent to your custodian, who is the company that holds the assets in your Vestwell plan.
Vestwell's online form will provide you with instructions on how and where to send the assets. You will also receive an email confirmation with the information necessary to provide to your previous provider.
We're Here to Help
We are here to make this process as seamless as possible in the hopes that having a consolidated account will help you manage your retirement savings more effectively. Should you need us at any time, please reach out to help@vestwell.com, and we will be in touch as soon as possible.
If you need help contacting the company that currently services the account you wish to transfer to Vestwell, here is a link to a helpful article that may include their contact information.