Your employer has chosen to work with Vestwell as your Company's retirement plan provider. As a company, Vestwell aims to be completely transparent about the fees that we charge and endeavor to present those fees in a clear, explainable way. This guide is designed to help you navigate those fees as a participant in the plan and answer frequently asked questions.
What are Vestwell's Fees?
Vestwell & our service providers charge recurring fees to you according to a fee schedule. The fee schedule covers specific services to your plan, and Vestwell's fee schedule typically includes a couple of different components, all of which are calculated and billed on a quarterly basis:
Participant Fees: This fee is a monthly fixed subscription charge that is paid while you have a balance in the plan. Occasionally, your employer may opt to pay this charge on your behalf. Otherwise, the charge will be deducted from your account balance on a quarterly basis and recorded on your quarterly benefit statement.
Assets Under Management (AUM) Fee: This fee is calculated based on your account balance at the end of each quarter. Similar to any participant fees, these fees may occasionally be covered by your employer. If not, they will be deducted from your account balance on a quarterly basis and recorded on your quarterly benefit statement.
In addition to the components above, Vestwell may charge fees for specific services requested by you as a participant in the plan. Our service team always strives to let you know if there will be additional charges incurred and what those charges will be for any services that you request.
How Do I Find the Fees That My Plan Is Being Charged?
For a comprehensive list of all the fees that Vestwell may charge you, log into the Vestwell portal to find your Plan's fee disclosure (known as the Plan's 404(a)(5) document). You can find this by navigating to "My Plan," then "Notices & Forms." From there, you can download your fee disclosure document called 404(a)(5).
Your Plan's fee disclosure includes a detailed description of Vestwell and our service providers that are associated with your Plan. The fee disclosure also includes Vestwell's custom fee schedule for your specific Plan, as well as any additional fees that may be charged for specific services.
If available, Vestwell will also update this fee disclosure with the estimated fee schedule from any other service provider to your plan (such as a financial advisor that may be assisting your employer in managing the plan). However, in certain cases, you may still need to contact your employer to determine any fees you may be charged by those service providers, as Vestwell may not be able to include an accurate estimate of fees due to other service providers associated with your Plan.
How Do I Know If Your Fees are Reasonable?
As a company, Vestwell is committed to leveraging technology to create a better, cost-effective experience for retirement plans. As part of that commitment, we regularly benchmark our fee schedules against the industry to ensure that our fees are competitive and that every participant is receiving strong value-for-money. As an example, see below for details of a typical Vestwell plan vs. the industry average: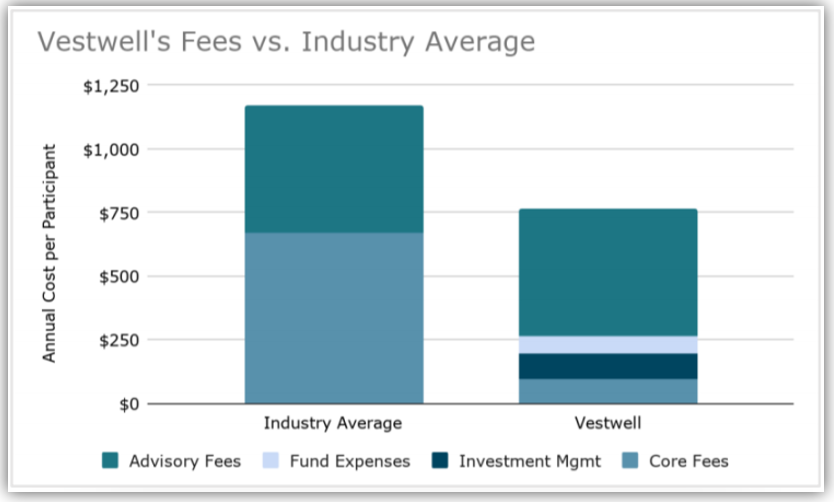 Notes: Industry Average is defined as the overall cost per participant in a plan with $5MM in assets & 50 participants in 2020, as calculated by the 401k Averages Book. We have assumed that 0.50% of AUM is ultimately paid to the Financial Advisor on the plan and is typically collected through investment costs or revenue sharing.
This is compared to pricing for a comparable Vestwell Workplace plan, with $5MM in assets & 50 participants, including a 0.50% AUM charge for Financial Advisory services, a 0.10% AUM charge for Investment Management services, and a 0.07% average fund expense.
Note that pricing may vary depending on a Plan's chosen features, services & investment options.
How Do I Pay My Portion of the Fees?
Vestwell automatically deducts fees owed by each participant from your retirement account within 15-30 days of the quarter's end.
Are There Additional Expenses for the Investment Options Available to Me?
Yes, every mutual fund or other security has an expense that is established by the issuer of the mutual fund or security. Vestwell has no control over what those providers charge.
The expense for each investment option, along with a helpful guide to understanding mutual fund expenses, is provided in the Investment Comparison Chart that can be found on your Vestwell portal. All investment-related expenses deducted from your account balance will be noted in your quarterly benefit statement.
What Should I Do If I Have a Billing or Other Fee-Related Question?
Reach out to your employer or email help@vestwell.com anytime.