Employers (Plan Sponsors) will navigate to the Contributions Section of their Vestwell Employer to manage their contribution submissions.
Vestwell Contributions Dashboard
On the main Contributions Dashboard, employers will see the following sections and features:
Next Pay Date: Date we are expecting employers to submit their next scheduled contribution.

Start Contribution: Start a new payroll submission for the Next Pay Date.

Deferral Change ("View Deferral Change"): Window where employers will see eligible employees who have submitted deferral changes via their Vestwell Saver Portal.

The ⚙️ button will allow employers to edit payroll information like pay groups, payroll provider and pay schedules.
Other Actions: This button can be used to submit off-cycle contributions.

History: Reflects their past payroll submissions and their status(es) and any allowable actions.
To learn more about the Contributions Dashboard please click here.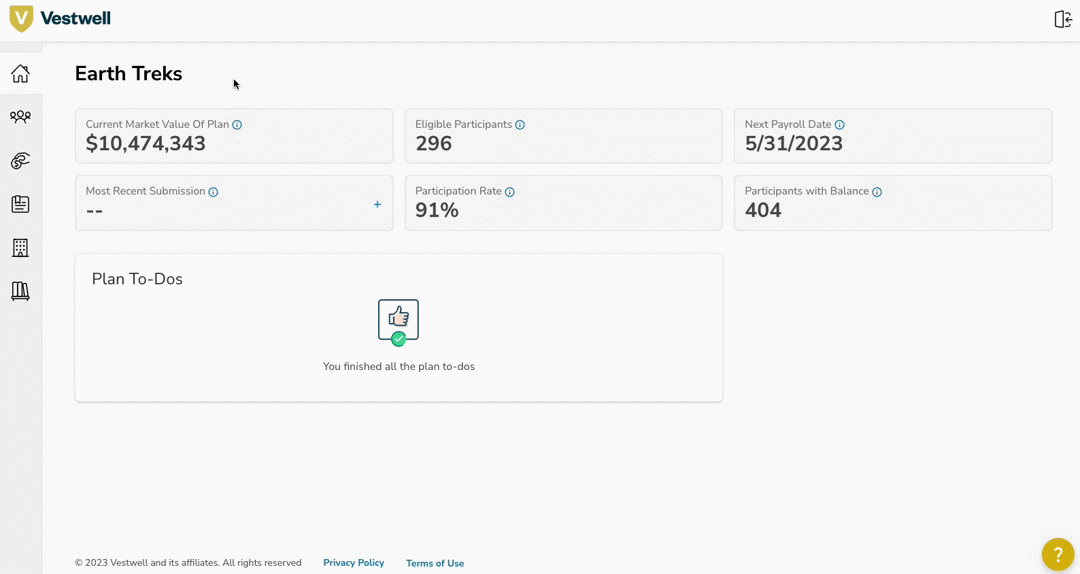 Submitting Payroll Contributions
After clicking the 'Start Contribution' button on the Contributions Dashboard, Employers, can choose to:
Copy data from the last processed contribution.
You can learn more about each process by clicking on the hyperlinks or by watching the video below.
Submitting Off-Cycle Contributions
If an employer needs to submit a contribution that is not tied to a regular pay cycle, they can submit an off-Cycle Contribution.
A few examples as to why employers may need to submit off cycle submissions for their plan:
Requesting Year End Calculations
Paying Out Company Bonuses
Contributions for K-1 Employees
Correcting a Mistake Of a Payroll Submission
They can do so by selection the 'Other Actions' on the main Contributions Dashboard.
Similar to submitting a regular contribution, they will have the option to manually type in the contribution into the grid, copy from a previous submission or upload a payroll file.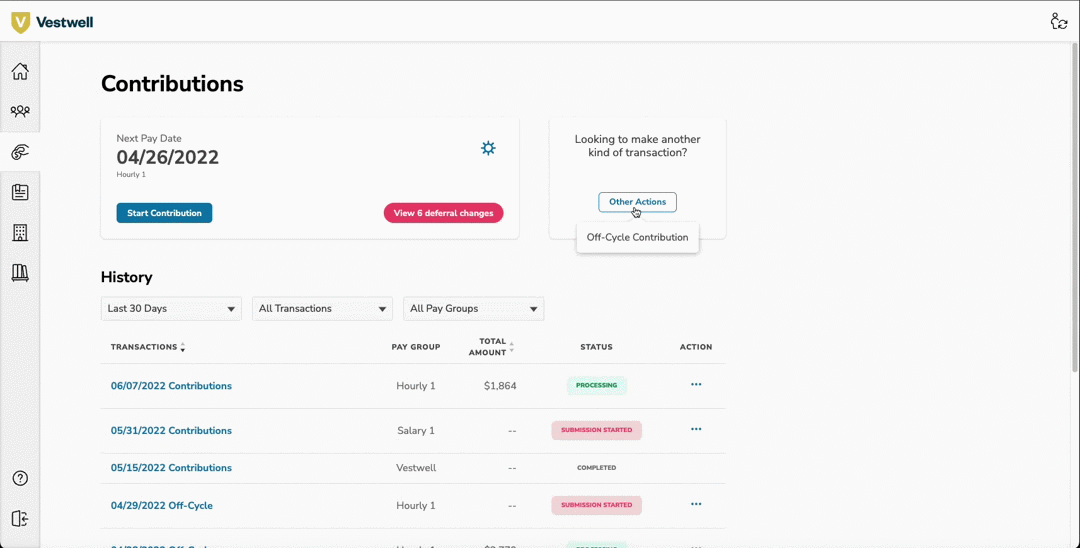 To learn more about Off-Cycle Contributions, please click here.
Vestwell Email Notifications
These are a few email notifications Employers(Sponsors) may receive regarding their Vestwell contribution submissions.
Deferral Rate Changes Notification - alerts the employer that a deferral rate change has occurred.
Upcoming Contribution Reminder - reminds the employer of an upcoming contribution submission.
There Was a Problem With Your Contribution - alerts the employer of any
Contribution Successfully Processed - lets the employer know that contribution submission was successfully processed.
To learn more about Email Notifications, please click here.