Vestwell Contributions Update
May 2022 - The Vestwell Employer Portal has undergone specific enhancements to further improve the Contribution submission process. Please review this article to learn more about our newly released features. The new features are being deployed on a rolling basis beginning May 5th. Not all plans will have this feature available to them but will do so by the end of Quarter 3, 2022.
The Steps Below Show the Legacy Instructions on Submitting Payroll Manually.
If you are not sure if your payroll provider is integrated, you can view the list here.
You are responsible for uploading employees' payroll directly to our site within 7 days of each paycheck date. Once submitted, money will show up in accounts within 4-7 business days.
How to Submit Payroll
Prepare your payroll file by downloading the payroll contributions template*, which can be downloaded by clicking on the template link right above, where you upload your payroll file. You must complete all relevant sections, and this template will need to be updated each time you submit your payroll.
Navigate to the Contributions tab by clicking the icon of a hand holding a coin.
Under the Upcoming Contributions section, click 'See all contributions.' You will see a list of all submitted and upcoming payrolls.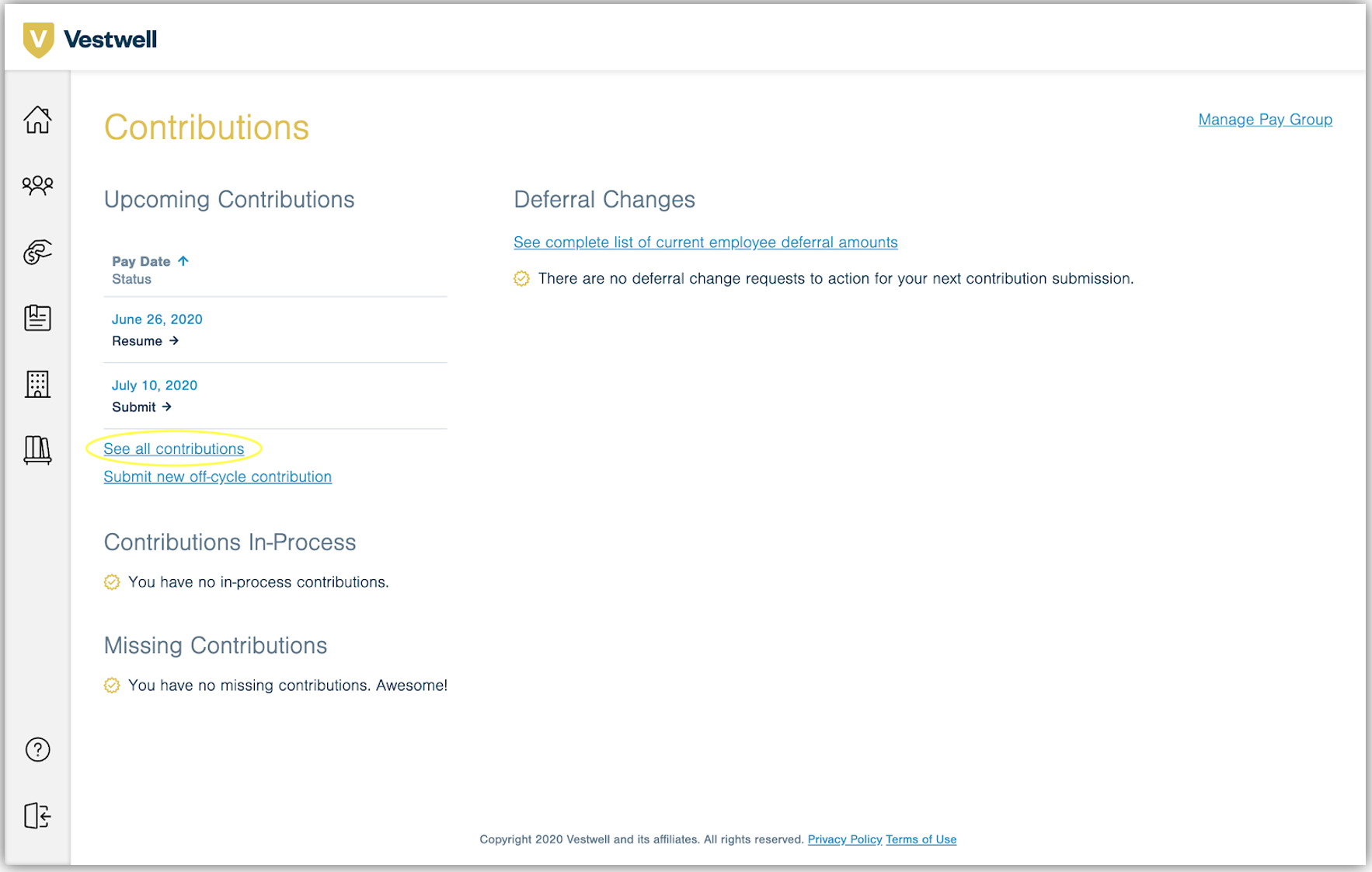 4. Once you select an upcoming payroll, you can see the status on the tracker next to it. The statuses include: Awaiting Submission, Processing, ACH Transferring, & Funds Trading
5. To begin, click 'Start Submission.'
6. Under Contributions, click 'Upload.' Once the file is uploaded, click the 'Send & Validate' button. This will run your file through a series of data checks that look for missing or incorrectly formatted data.
7. If the system flags a problem with your data, it will allow you to input accurate information.
8. Once you fix any data issues (if applicable), you will be brought to the final submission screen. You can scroll down to view the information you shared. If it looks good, click Complete Submission.
9. Congratulation, you're done! You will be brought to a screen showing that your submission has been received.
*If you're interested in using the report from your payroll system rather than Vestwell's template to submit your contributions, contact your client success manager or email clientsuccess@vestwell.com to discuss options.