If you have to add a new employee, update an existing employee, or notify us of termination, you can utilize the Vestwell portal to complete these actions.
Adding New Employees
Participants may enroll online through the Vestwell site, for more information on how to do this please visit this article.
You may also add a new participant through the contribution process when you upload a contribution file into the portal.
Adding Employees Through File Upload
If you have a new employee to add, you may add them by including them in your contribution upload file. When uploading a contribution file, if an employee on that file is unrecognized, you will be alerted of that in the contribution grid.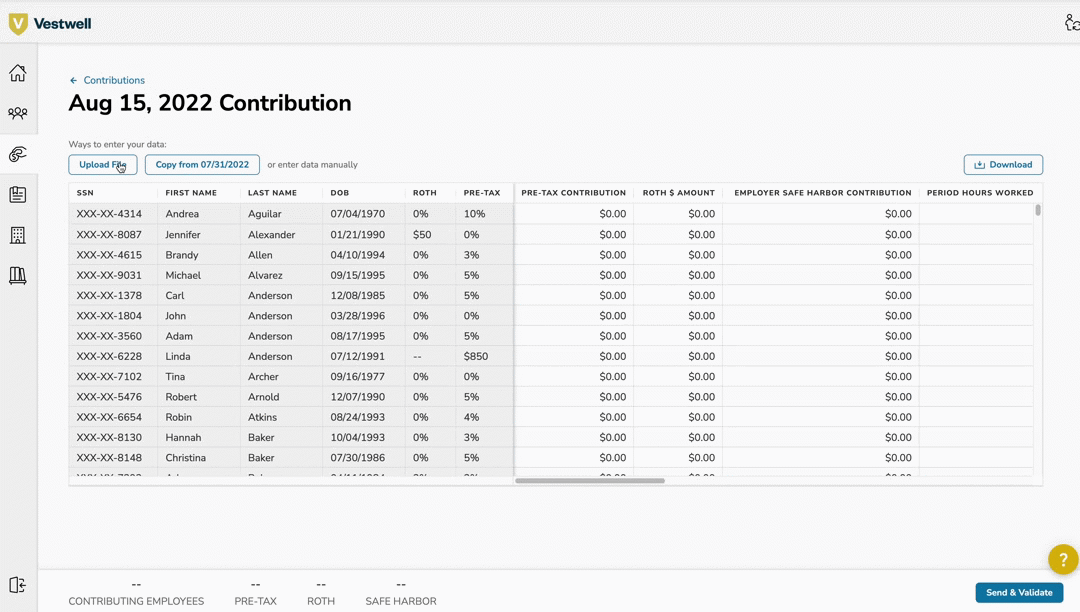 If you have all of the required information to add that participant, select "Add Employee" to proceed with adding their required data.
You will be presented with a series of pop-up screens where you can enter additional information about the participant.
On the first page, you will provide:
The Participants Name
Marital Status
SSN
Date of Birth
While Marital Status is optional, if you know it, please include it. If your payroll provider has an ID they use in lieu of SSN, you may include it in the OPTIONAL field called External Payroll ID.
The Save & Continue button will highlight blue when all required fields are entered. If the button is greyed out, review your screen for missing required fields.
Press Save & Continue to move on to the next page.
From this screen, select the edit button to change any information from the previous page.
Be on the lookout for required fields, which are noted on the screen.
At any time during this process, you can choose to cancel the setup of the new employee or "Exclude the Row" related to this new employee from the contribution.
Enter the new participant's address and hire date to complete their setup, then press "Save New Employee".
Once completed, you will see the following screen. Press OK to return to the contribution in progress.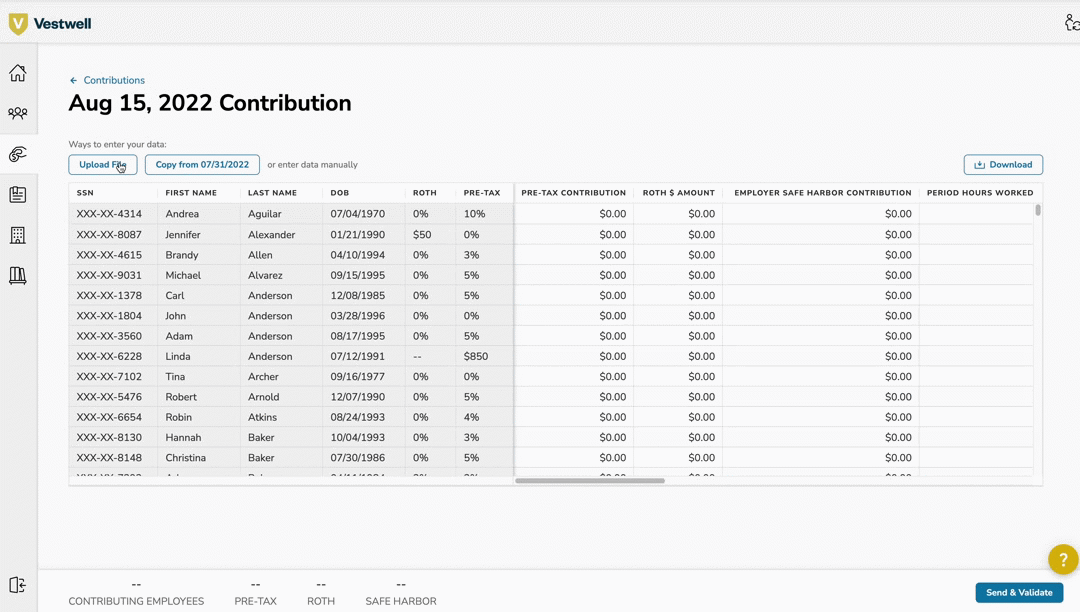 You must complete all required fields to add the employee. If you don't have the required information on hand, you may choose to exclude this employee from the contribution submission. If you choose to exclude the employee and complete the rest of the contribution, be sure to either refund the money to the employee OR come back later to add the employee and process their contribution, using an Off-cycle Contribution once you have the required information in hand.
While not common, from time to time, you may need to process a contribution for a new employee who has already left the company. If this happens, be sure to include the termination date, in addition to the hire date.
Updating an Existing Employee
To update demographic or employment information about an existing client, you can make those updates by doing one of the following:
Including updated information on the contribution file that you upload;
Updating information directly on the portal in the Contribution Grid during the contribution submission process. You can type over any existing information or enter any blank information;
For integrated plans, update information in your Payroll system so that the update is included by the Payroll Provider on an upcoming contribution submission.
When updating directly in the grid, tab or click into the field you want to change and start typing to update. Then press Send & Validate.
Here are a few things for you to keep in mind:
If you have a new employee, ensure they are on the file you upload to Vestwell on their first pay date, with a contribution.

If you need to change an employee's demographic information, ensure the updated information is included when you process your contribution.

If you need to notify us of an employee's termination, ensure the employee is included in the file with a Date of Termination. After that, you can remove them from your file, but we need to receive the file with a Date of Termination at least once in order to update the account.

Social Security Numbers and Names cannot be updated through the portal. Work with your record-keeping contact on those updates.
If you have any questions, please reach out to us at clientsuccess@vestwell.com.