The fifth section of the Task Tracker is the Add Employees section.
Add Employees Section Video Walkthrough
Time to Add Your Employees
In this section, you will be providing a full company census. This file must contain information of every employee of your business or businesses whether or not they will be immediately eligible to enroll. For compliance purposes, we will need every employees:
Social Security Number
First and Last Name
Date of Birth
Initial Hire Date
Email Address
Home Address
You should be able to obtain a census report from your payroll system. If you can't find it in your payroll system please view 'How to Create a Census If You Don't Have a Copy'.
If you plan on implementing an hours-based eligibility requirement in your plan, you must include your prior year hours and YTD hours world and prior year and YTD compensation, as well.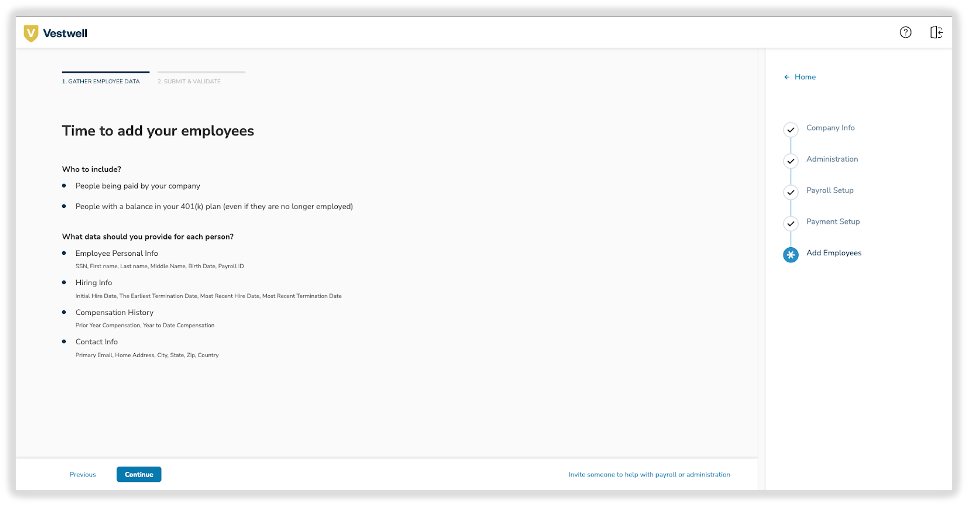 Click Continue to move on to the next tab.
Add Employees to the Program
The next step will allow you to upload your census file in CSV format. More resources for submitting your census can be found under the 'Need Help' section, here you can find our census template that will help you organize your information, you will also find a guide on converting Excel to CSV.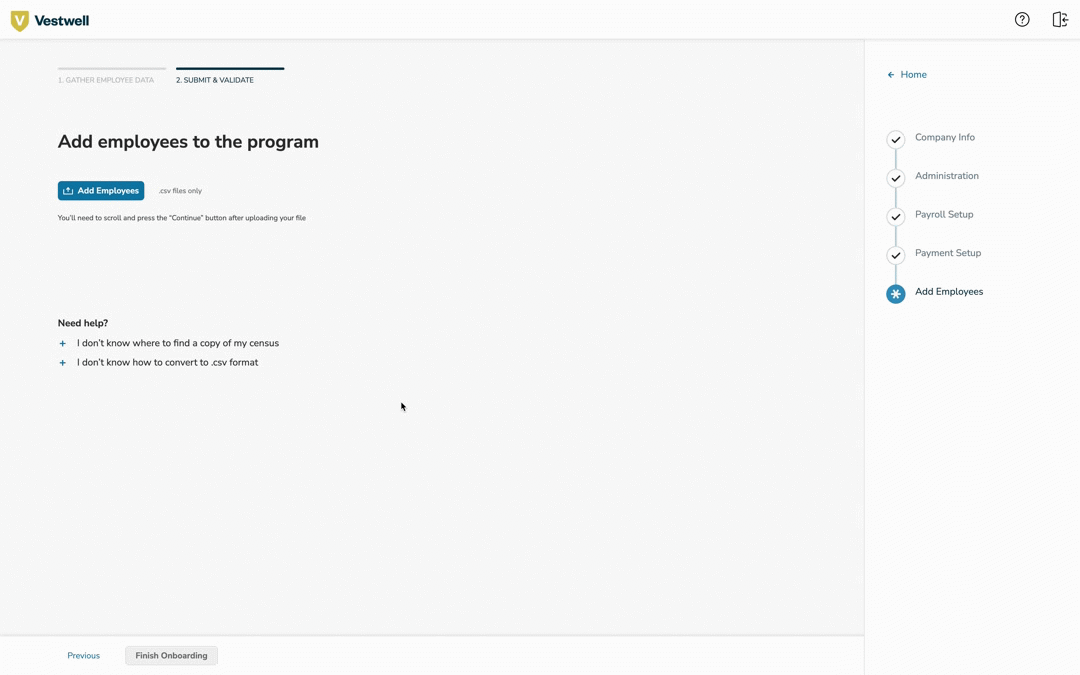 If you are starting a new plan, this will be your last step. If not then you will be prompted to upload retirement plan documents from your existing plan. What would be required is:
Adoption Agreement
Most Recent Statement with Participant Balances
Summary Plan Description
Any other documentation you have about your current plan
Note: If at any point you need to exit and return back to the task tracker to complete the information, make sure to save your progress so you can return later to the login page at signin.vestwell.com
Once the onboarding tracker is complete, our onboarding team will be notified and a member of that team will reach out to you to schedule an alignment call.