What you need to know about requesting a distribution, how it works, how long it takes, and associated costs.
Steps for Submitting a Distribution Request
To request a distribution, log in to your Vestwell portal; on your Retirement Summary page, click Withdrawals & Rollovers and select "Withdraw from Balance."

Understanding Distribution Requests
What is a withdrawal?
Withdrawals are when you take money out of your retirement plan. To learn more about withdrawing funds and required minimum distributions, visit the IRS website here.
How does a withdrawal request work?
First, you will fill out the Withdrawal Request form on the portal. The options you see in the form will be limited based on what your Plan allows, your current balance, your employment status, and other factors.
Once you have completed and submitted the form, we will process your request and send the funds to you or your specified rollover account.
What is the timeline for processing a distribution request?
Your funds should reach their specified destination within 10 business days from when you submit your request. Once we receive your request:
We will review your request to confirm that it is valid and complies with all Plan rules. This can take up to 5 business days.
We will sell your investments to generate the requested amount of cash. This takes 2-3 days from the day the trades initiate.
We will issue payment. This takes 2-3 days via ACH. If you request a check, it will be sent via regular mail.
What are the associated fees and potential tax implications?
The amount of the fee for processing withdrawal requests can be found in your annual fee disclosure notice. Your fee disclosure notice can be accessed in your saver portal in the documents section under the plan tab. See below.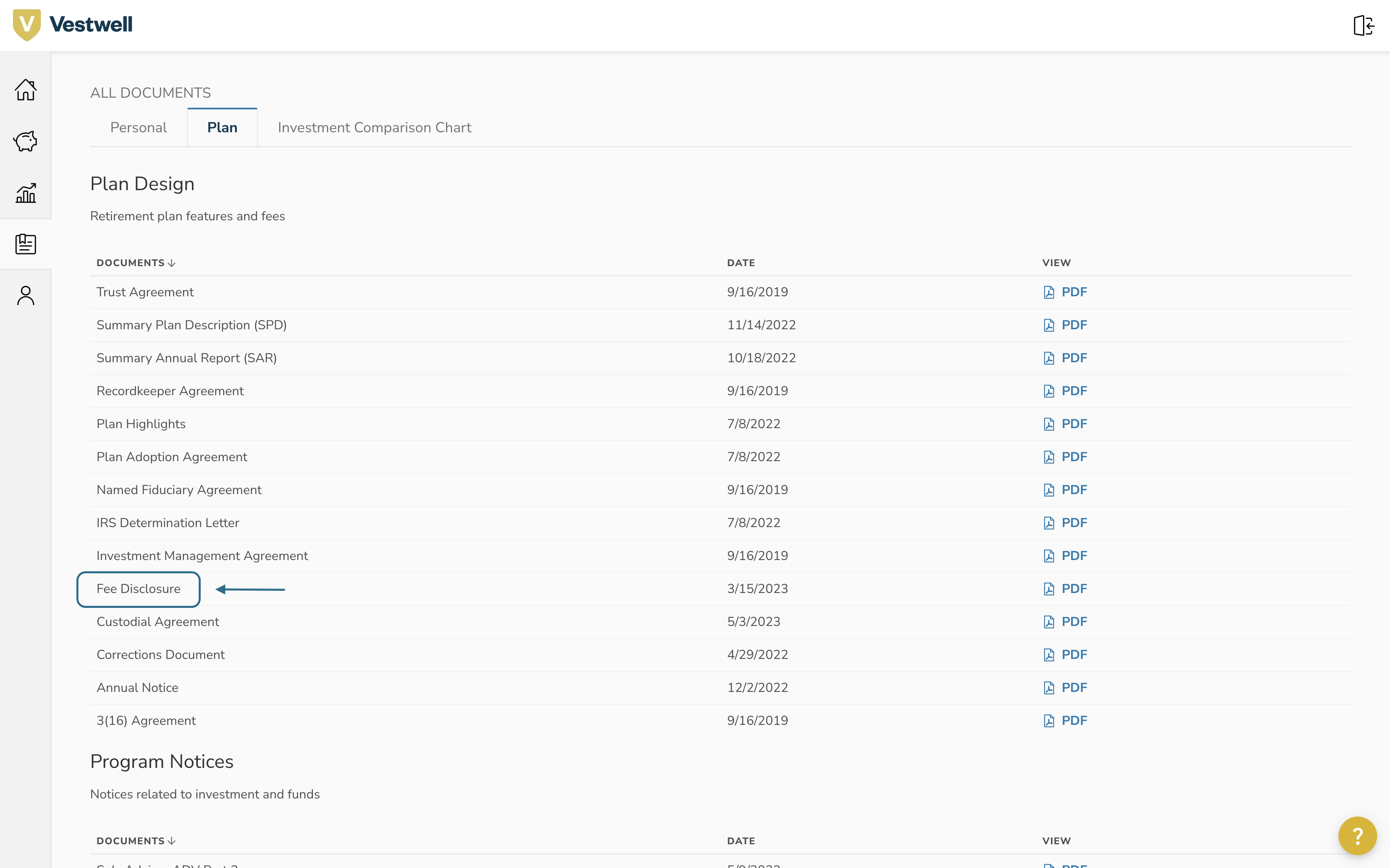 Your withdrawal request may have tax implications. Vestwell is not a tax advisor; we recommend that you consult a professional if you have any concerns.
Further Reading
Why Keep My Funds with Vestwell?
We hope this information is helpful, if you would like further assistance please contact us a help@vestwell.com